Waxing
Waxing is a non-permanent, but popular method of hair removal. "Hard Wax" is the overall choice at Pour Le Corps. It works ideally on all skin types, especially sensitive skin causing the least amount of skin irritation and does not pull on the skin. Although not considered permanent, some may see a diminishing of hair over time. Most areas of the body may be waxed.
Focus on Eyebrows
Perfectly Spaced Eyebrows

The most outstanding feature of a woman's face is her eyes and the eyebrows play an important feature role because they frame and enhance the eyes. Many women neglect to think about the eyebrows in this fashion.
Eyebrows have the power to convey the messages of expression and mood. An unsightly and unbalanced expression will be conveyed if the eyebrows are not shaped or maintained properly.
When designing a set of brows it is vital to take into consideration an individual's features such as their eyes, cheekbones, nose, lips and facial shape. The placement and size of these features are the determining factor of the eyebrow design, not the current fashion fad or trend.
Overview
While there is no perfect technique or style for everyone, here are some basic guidelines to follow when shaping eyebrows and the removal of hair in doing so.
Optical Illusions
The illustration below shows three sets of identical eyes with three different eyebrow shapes. The eyes are the same width apart yet each set looks different. Eyebrows, depending on their shape, can create either a positive or negative optical illusion.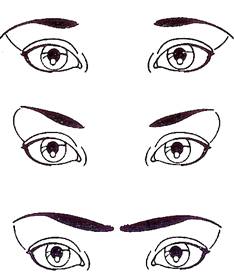 Measurement Of Eyebrows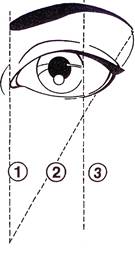 To measure the eyebrow accurately, carefully hold a pencil at the side of the nose, lining it up with the inside corner of the eye.
This is the spot where the brows should begin (1).
Next, carefully move the pencil so it is touching the side of the nostril and the outer corner of the eye. This is where the brow should end (2).
The high point of the eyebrow arch should be directly above the outer edge of the iris of the eye (3).